2011 Dodge Durango Introduction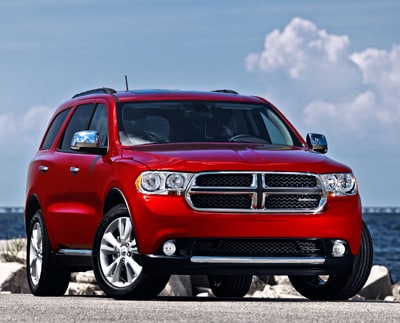 The 2011 Dodge Durango is substantially overhauled from previous iterations, keeping only its name, optional Hemi engine and perhaps a couple of hidden electronic pieces. It's a big change likely to win its share of "most improved" awards.
A Durango is for those with varied needs: plenty of seats, cargo hauling flexibility, towing, or four-wheel drive. To that end it can accommodate seven, even seven adults. It can be configured to carry big boxes or four people AND a 10-foot long-board inside. It can tow a minimum 3500 pounds fully loaded and up to 7200 in a lightly loaded V8, considerably more than most of the crossover competition that's based on front-wheel-drive platforms. And you can get low-range 4WD with the V8, though it's not as tough underneath as the old truck-based Durango.
The standard setup is rear-wheel drive, yielding even weight distribution, a compliant bump-soaking ride, nice quiet cruising and good response to driver commands.
An all-new 3.6-liter V6 brings 290 horsepower and is paired with a 5-speed automatic transmission, but they are saddled with 4900 pounds to haul around. On the plus side, the V6 gets 23 mpg on the highway and has a big fuel tank, so those 400-mile scenic routes won't have you worrying where the next gas station is located. Those less concerned with mileage will opt for the Hemi, not because of its 70 added horsepower but for the extra 130 lb-ft of torque and the V8 soundtrack.
Durango's interior now seats seven (except the Heat model) but it feels larger than before and looks better. Materials and fit-and-finish are miles ahead of its predecessor and remain wholly appropriate for the SUV mission.
Pricing runs from about $30,000 to about $46,000. The base Durango Express model is far from basic and a loaded Durango Citadel has everything you need and a lot more. Options, especially compared to some imports, are reasonably priced; our Durango Crew model had just $1,550 in options on it and left us wanting for naught.
The only Big 3 vehicle that's undergone wholesale change like this is Ford's Explorer, but it no longer offers rear-wheel drive, a V8, or similar towing capacity, and dare we say isn't as much improved as the Durango. By class benchmarks the Durango has a refined ride and cabin; by previous Durango standards it's beyond comparison.
Durango competes in a fairly crowded market, against the GMC Acadia, Chevrolet Traverse, Buick Enclave, Ford Explorer, Toyota Highlander, Hyundai Veracruz, Kia Sorento, Subaru Tribeca, Mazda CX-9, and Honda Pilot. Top-drawer Durango models could also compete with the Acura MDX and Volvo XC90, yet Nissan's Pathfinder is the only seven-seat, rear-wheel-drive competition to offer a V8 in this price range.
If you do no towing and don't need the V8, we would suggest the Dodge Grand Caravan. With the same V6, a 6-speed automatic and less weight to cart around it is quicker, gets better mileage, handles as well, has more people room, and as much cargo space behind the second row as the Durango does behind the front seats.