2011 Dodge Grand Caravan Introduction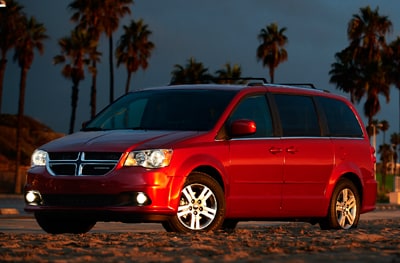 Dodge Grand Caravan has been substantially revised for the 2011 model year, and we think the changes elevate this minivan on the consideration scale. The Dodge Grand Caravan and Chrysler Town & Country offer class-leading interior convenience.
The 2011 Dodge Grand Caravan benefits from an extensive midcycle update. Changes for 2011 include revised styling, a new engine, an upgraded suspension, and a reworked interior.
For 2011, Grand Caravan has been repositioned to sell mostly below $30,000 while its Chrysler counterpart, the Town & Country, is packaged to sell above $30,000. For the Grand Caravan, that means several features are no longer available, including Sirius Backseat TV, FloTV, a power third-row seat, a dual-screen rear DVD entertainment system, and Swivel 'n Go seating with second-row seats that turn rearward to face a table that stows in the floor. However, the key features that make the Grand Caravan a compelling purchase as a people mover remain.
The new engine for 2011 is a 3.6-liter V6 that replaces three archaic V6s from 2010, offering more power and improved fuel economy. The new engine fixes a weak point and makes the Dodge competitive with the Toyota Sienna and Honda Odyssey. This fine new 3.6-liter V6 is mated to a mediocre 6-speed automatic transmission, resulting in a combination that delivers adequate response for most drivers.
The 2011 Grand Caravan suspension is stiffer than before and the van rides lower, making it more responsive to driver inputs than the 2010 model. Gone are the annoying wallow and float characteristics we noted with the 2010 model. Yet ride quality is still quite smooth. Like all modern minivans, the Grand Caravan is big, so it can be a beast to handle in tight quarters. Grand Caravan, Sienna, and Odyssey are all the same size: extra large. Indeed, we should call these vehicles midi-vans or vans because there is nothing mini about them.
For 2011, the interior of the Grand Caravan is upgraded, and we find the new look far more attractive. The materials are richer, though, like most of its rivals, hard plastic dominates the dashboard. Still, the new soft-touch door tops, redesigned gauges and nice bits of trim are welcome.
Grand Caravan is about usable space. Super Stow 'n Go is standard. It offers more comfortable second-row seats that fold into the floor, offering useful cargo space with those seats up or down. The third-row seats fold into the well behind them, and with all the seats down the Grand Caravan can accept a 4×8 sheet of plywood.
The Grand Caravan's unique cargo and entertainment features make it a strong contender in the minivan class, and the 2011 changes only make it better. Families will like it, especially because those entertainment features will make for more enjoyable family trips. That is, after all, the reason the Grand Caravan remains so popular. While some options are gone, there are plenty of entertainment features that will help keep the kids occupied. They include three types of hard-drive radio, Sirius satellite radio, rear DVD entertainment, a wireless cell phone link, and a mobile internet hot spot. If you want more than that, check out the Chrysler Town & Country.
The Dodge Grand Caravan is all about transporting people comfortably, efficiently and safely, while keeping them entertained. Its designers focused on interior creature comforts, such as the popular Stow 'n Go seating system. Stow 'n Go consists of bins in the floor behind the first row of seats, and second-row seats that can be folded into those bins, resulting in a flat load floor for easily carrying larger objects. Or, when the seats are up in the normal seating position, the bins can accommodate toys, games, sporting gear, tools and other small cargo.