2016 Dodge Challenger Introduction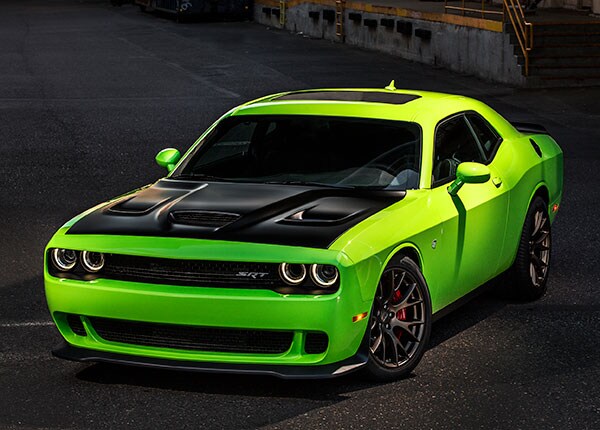 Big and heavy, the 2016 Dodge Challenger offers more touring comfort than other muscle cars. The Challenger is a two-door coupe, but it's a bigger car than the Ford Mustang and Chevrolet Camaro. A diversity of models and a variety of engines lets owners choose a comfortable daily driver, a dragstrip battler, an outrageous Hellcat, or a colorful reminder of the past.
Exterior design follows patterns from the classic original Challenger, launched back in 1971. Challenger has always been known as the largest, most blocky-looking American muscle car, intensifying its road presence. Revived for 2008, the modern version is more touring coupe than raucous plaything: vigorous but comfortable, delivering a surprisingly supple ride.
Following a freshening for 2015, the new Blacktop Appearance group is available for the 2016 Challenger, with black accents and available Plum Crazy paint. The Hellcat gains Laguna leather.
Picking a favorite isn't easy, with 10 versions available: Challenger SXT, SXT Plus, R/T, R/T Plus, R/T Shaker, R/T Plus Shaker, R/T Scat Pack, 392 Hemi Scat Pack Shaker, SRT 392, and the SRT Hellcat. The customization option means no two Challengers are exactly alike.
A 305-horsepower 3.6-liter V6 comes in the Challenger SXT. The 5.7-liter Hemi V8, standard in R/T, is rated at 375 horsepower and 410 pound-feet of torque. Next up, in the SRT 392 and R/T Scat Pack, is a 6.4-liter Hemi V8 that produces 485 horsepower and 475 pound-feet. Top dog is the supercharged 6.2-liter V8 in the SRT Hellcat, whipping up 707 horsepower and 650 pound-feet.
All four engines mate with an 8-speed automatic transmission, with paddle shifters and Sport Mode. A 6-speed manual gearbox remains available for V8 models. Like all three competitors, the Challenger has a rear-wheel-drive layout with independent rear suspension. Suspension tuning varies according to model. The 2016 Challenger SXT is a little firmer than the 2015 version.
Despite its size and retro look, getting into the back seat is awkward, and visibility is poor. Fuel consumption wins no prizes, either.
Safety ratings score well. The National Highway Traffic Highway Safety Administration gives a five-star rating overall, with a five-star rating for side impacts and four stars for frontal impacts.