2016 Dodge Dart Introduction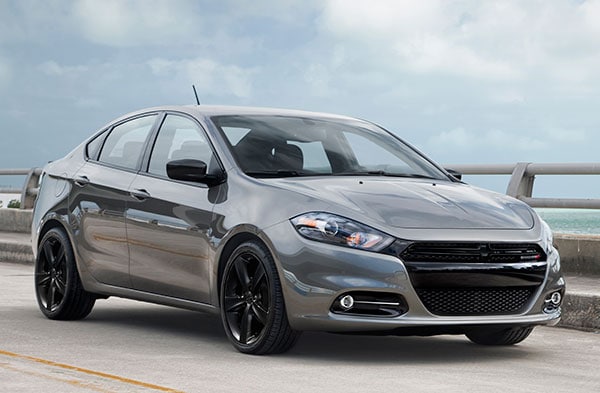 The Dodge Dart boasts distinctive styling, a spacious interior with abundant features and strong safety ratings in a compact sedan. The Dart has established a solid reputation, competing against such long-standing models as the Ford Focus, Chevrolet Cruze, and Toyota Corolla. The Dart offers a choice of three engines.
The Dart, a front-wheel-drive sport compact, joined the Dodge lineup for the 2013 model year. For 2016, a new Sport Appearance Hood is optional for Dart GT and Dart SXT models with either a Rallye or Blacktop package. Otherwise, the Dart carries over largely unchanged. The Dart name dates from the 1960s.
We have found the Dart drives well and delivers on the promise of sporty handling. The base engine lacks any spirit and does not live up to the sportiness of the rest of the car, however. The Dart Aero model offers excellent fuel economy when cruising on the highway, but gas-mileage figures for the rest of the lineup are not compelling. Drivers get a good seating position in the Dart, but road noise and tire noise are prevalent.
The standard engine for the Dodge Dart is a 160-horsepower, 2.0-liter four-cylinder, with either a 6-speed manual or 6-speed automatic transmission. Fuel economy for the base Dart SE with the 2.0-liter engine and manual gearbox is EPA-rated at 25/36 mpg City/Highway, 29 mpg Combined; with the automatic it's 24/34 mpg, or 27 mpg Combined.
A better choice is the 160-horsepower, turbocharged 1.4-liter engine that comes with Dart Aero models, matched to either a 6-speed manual gearbox or a dual-clutch automatic transmission. While horsepower is the same as the 2.0-liter, the turbocharged engine offers more torque, which propels the car more briskly from standing starts. The Dart Aero manages an EPA-estimate of 28/41 mpg City/Highway, that highway figure being particularly impressive.
Most powerful is the Dart SXT, GT and Limited sedans get a 184-horsepower, 2.4-liter engine. The Dart Limited with automatic transmission is EPA-rated at 23/35 mpg City/Highway, or 27 mpg Combined.
The Dart earned a five-star overall rating from the National Highway Traffic Safety Administration, NHTSA's top score. The Dart also earned Top Safety Pick status from the Insurance Institute for Highway Safety. That combination of crash-test scores makes it one of the highest-rated cars for safety in this class, topped only by the Honda Civic.