2018 Dodge Durango Introduction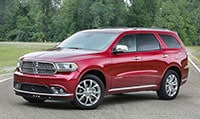 The Dodge Durango is a crossover because it's a unitbody, so it's not built with the body bolted onto the frame like the more rugged truck-based SUVs. Durango behaves like a crossover, with very nice road manners, like a car.
It doesn't look like a crossover, however, and some of its capabilities resemble those of a truck-based SUV. It's handsome, not too soft, clean but rugged like the SUV it used to be. It can tow up to 7400 pounds. It seats seven, with a third-row seat standard equipment on all models but the base SXT where it's optional. It's rear-wheel drive, not front-wheel drive. All-wheel drive is optional.
Durango is built on the chassis of its cousin the Jeep Grand Cherokee, stretched with a longer wheelbase to make decent room for seven. It shares character with the Mercedes-Benz M- and GL-Class, which are also crossovers, arguably.
Durango's competitors include full-size truck-based SUVs from Chevrolet, GMC, Ford and Lincoln, among others. Being rear-wheel drive, it's sportier than rivals with front-wheel drive like the Honda Pilot and Nissan Pathfinder. Dodge PR says the Durango is the Dodge Charger of SUVs, and that's a good description.
That's a lot of competition in the class, and the Durango is getting a bit long in the tooth; the 2018 model is the eighth year of its generation, although there have been countless changes and upgrades along the way. And there's a bunch more for 2018, changes to equipment and trim, but no redesign, unless you count the spectacular new SRT model.
Like the Jeep Grand Cherokee SRT before it, the Durango bolts in Chrysler's big 392 cubic-inch V8 making 475 horsepower and 470 pound-feet of torque. It's all-wheel-drive only, using a beefed-up version of the 8-speed automatic that's in all Durangos. It is awesome fast. So fast that it comes with a one-day session at the Bob Bondurant School of High Performance Driving.
The base engine is Chrysler's strong 3.6-liter Pentastar V6 making 290 or 295 horsepower with 260 pound-feet of torque. The bigger engine is a 5.7-liter Hemi V8 making 360 hp and 390 lb-ft. Both engines use an 8-speed automatic transmission. The V6 can tow a class-leading 6200 pounds; the Hemi V8 can tow a class-leading 7400 pounds. It's loud.
The V8 gets a rugged two-speed transfer case, while the V6 uses a simpler single-range electronic system.
Gas mileage is not so hot. The V6 gets an EPA-estimated 19/26 miles per gallon City/Highway, or 21 mpg Combined with rear-wheel drive, or 18/25/21 mpg with all-wheel drive. The 5.7-liter V8 is rated 14/22/17 mpg with all-wheel drive or rear-wheel drive. All come with the stop/start system that shuts off the engine at a stoplight.
The crash ratings are not so hot, either. The chassis might be showing its age, earning four stars overall from NHTSA; only three stars in rollover for all-wheel-drive models (four for rear-wheel-drive), but five stars in side crash. The IIHS gives it good scores in most of the tests, except for Marginal in the fearsome small-overlap.
New standard equipment for 2018 includes a rearview camera; sport steering wheel with paddle shifters; shifter with Auto Stick selector gate; Apple CarPlay and Android Auto using the Uconnect system with an 7.0 or 8.4-inch touchscreen radio system.
The camera has the eminently helpful trailer view that makes it easy to perfectly place your trailer-hitch ball under the cap on the trailer tongue. Also standard on other models is the UConnect infotainment system with 8.4-inch display screen.